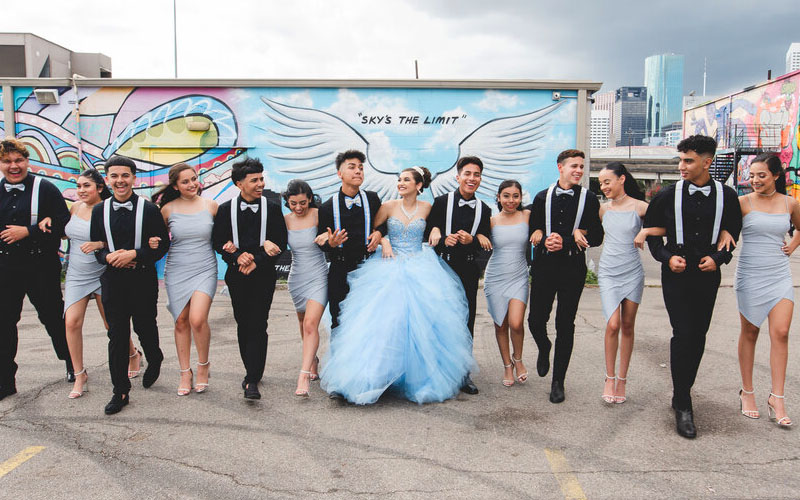 Choosing your Court is a very important step of your Quinceañera. It is not only a way of having your closest friends participating in this special day, but also a demonstration of how important they are for you. By the time you invite your damas and chambelanes, you should already know some details of the court and how to make it go well in the party. Find here tips for making your practices just perfect!


1. How to choose your Damas and Chambelanes
When inviting them to be part of it, make sure to show how important they are for you. Another important thing is how to do the proposal. Many girls, inspired by fiancées, prepare a gift and a nice card for whom they are inviting. This is also a way of showing their value to you. Don't forget to always show that during the practices and even during the party. They are close friends who are with you in your passage to adulthood. That means a lot!
After they say yes, make sure to keep some things very clear:
a. Who is paying for what
It is very important that you talk to your parents about whether they are willing to help your court financially. Then, after your court says yes, you should make it very clear what it is on you and what it is on them to pay. When your parents are not helping in the clothes, for example, you can help them to find the right clothes whether for selling or for renting. They should also know whether they will have extra expenses like bouquets.
b. What kind of dance it's going to be
Your court should know whether it is a surprise, a mass, or a waltz dance. If there is a surprise dance, they should be aware in order not to tell other people about it. A waltz is the most classic, but also a bit more difficult for the younger ones. And a mass dance might require a lot of practice with the whole group together. That's why they should know what kind of dance it is to prepare themselves.
c. The responsibilities of being in the Court
After saying yes, your court should know their responsibilities. Attending to the dance practice and going to your Quinceañera are a must. Being punctual is also a duty of those who accept to be in the Court. Maybe you can decide together who is going to pick each other up for practicing or even for the party.
2. Quinceañera Entrance
3. How to plan dances with your Court
As we have seen, there are many moments when your court can participate. The entrance, a waltz or surprise party, it all requires a lot of rehearsals. But how to plan them in advance?
First of all, you should choose the songs you want. It should be meaningful for you because this is for sure be a mark in your life. Then, you can whether hire someone to create a choreography or copy one from the Internet. If you are having a hard time deciding it, maybe you can ask your court for help. They are your friends and know a lot from you to say which ones you will like or not.
After choosing the song and having the choreography, you need to schedule the practices. This should be a group work só that everyone participates. During those practices, remind your damas and chambelanes how important they are for you and how meaningful it is to have them there. Try to make it fun and enjoy the time with your friends.
When you have practiced enough and you think the dance looks good, don't overdo it. You don't want to be too tired or too nervous for the party. Maybe you can try a final rehearsal with a few relatives or friends watching.
4. Coordinating colors for your Court
Maybe you'll want to help them finding places where the color you choose is available. You don't want different tones in each dress so that it looks like you didn't pick a color at all. Also, your chambelanes will need to wear something with the color of your choice. You need to make it clear the color of the suit and the color of the court. It usually is a tie in the same color of the dama's dress.
5. Enjoy!
Not only the party, but also the preparation is an important process. It is a chance for being close to your friends and family who are willing to celebrate your life! Even if you are anxious and want to make everything perfect, try to make every moment memorable. Have fun during the process.