Quinceanera dresses with puffy skirts make you look fancy and glamorous. It can be worn in the most different kind of parties and will make you look just perfect. Check out some ideas for a puffy dress for your fiesta.


1. Blue puffy dress
A dress like this makes you look very mature and gives you a royal look. It is perfect for any skin tone, but it makes olive skin tones stand out. This color is great for a party at night and the puffy skirt makes its color even more attractive. The cleavage with silver appliques give it an adult look and allows you to choose between many different hairstyles. Jewelry is a plus, since the puffy skirt is the center of attention in a dress like this one. Also, it allows you to choose between different fabric types and still have a beautiful look.
2. Nude colors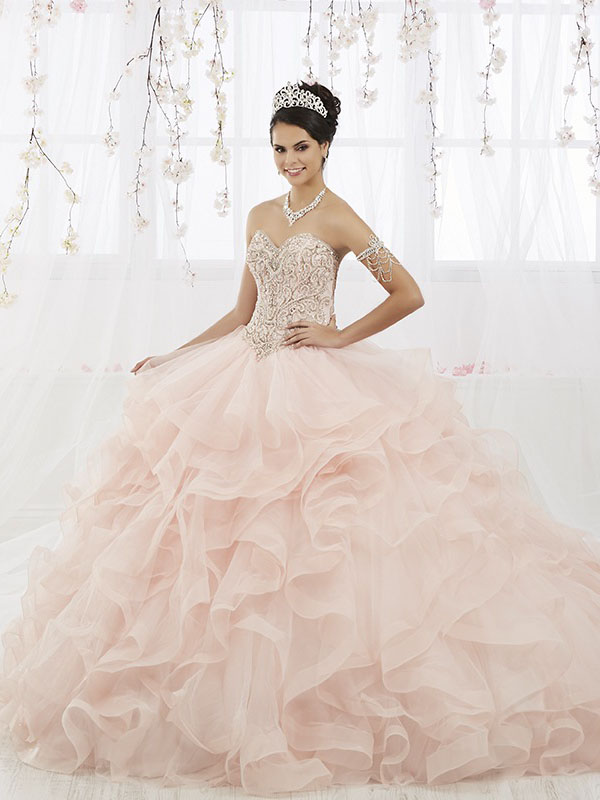 A dress like this is perfect for traditional quinceaneras during the day. Its light color with a puffy skirt makes the girl look very sweet and fresh, as if she was levitating. The traditional upper part of the dress makes the outfit have a nice silhouette. It also gives the girl a beautiful movement while dancing, but it requires a large venue/saloon in order to make it easier for the girl to walk and dance among the guests. It can be a good idea to wear a dress like this during the day with a beautiful matching decoration. It can be inspired by cherry blossoming.
3. Flower like puffy dress
Flowers, volume, and red. This combination could not go wrong. A dress like this is pure luxury. It is perfect for parties during the colder days and it gives the girl a glamorous appearance. The skirt is the center of attention, with a beautiful pattern and volume. This darker tone of red makes it suitable for different skin tones. Nude makeup is a great choice for a fancy red dress like this. The silver details on the top make the skirt even more attractive and it is more comfortable than most cleavages. The dress itself is a whole look and doesn't require complex hairstyles. A bun or loose hair should be enough.
Puffy dresses are glamorous choices for your quinceanera. Find some incredible models in the shopping section of our app and be ready to shiny in your party.