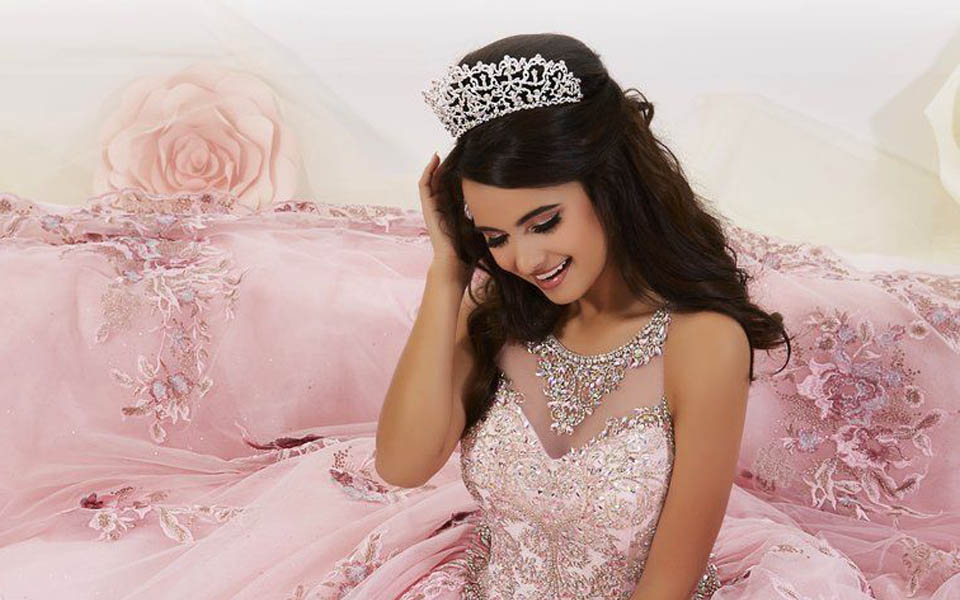 A quinceañera tiara is a very special tradition. Not all girls wear it, but those who do want the perfect one for their special day. There are all kinds of tiaras, and the girl should choose the one that has more to do with her personality. Find out some tips for choosing the perfect tiara for your quinceañera!


Tiara Models
There are different tiara models that you can find directly in our app. They are a very special item of your quinceañera, and your choice will reflect a lot of your personality. The first thing to take care of is your hairstyle. Not all hairstyles go well with a tiara, so consider that when deciding to wear it. Also, it can reflect your personality, so think of the message you want to transmit. The perfect tiara can also make your look glow. See those tips in details to choose your perfect tiara.
1. Tiara Crowns
This is very traditional and gives you a nice look from any side. This is a safe choice, not only if you want to look romantic and traditional, but also if you are having a hard time choosing a tiara model for you.
2. Pageant Crowns
These are large and tall crowns that can be seen from far. You should choose one of those if you want to look bold and attractive. Beware if your dress has many details and if it matches the tiara in order to have a harmonic look.
3. Tiara Headbands
This model gives you more options if you are not sure about how you will use your hair during your special day. It can work both as an elegant headband as well as a small tiara depending on your hairstyle. It is simple and easy to wear and still very beautiful.
4. Personalized Tiaras
You can design your tiara specially for your quinceañera. There are specialized designers who can make your tiara unique for perfectly matching your beauty and style. You can change the shape, size, color, or the encrusted details on it. There are special jewels (or fake jewels) that you can add to your tiara and make it fancy.
Some girls choose to personalize engraving their names on it. It is a way of having the attention on you and having a remarkable tiara. Your tiara and your name will for sure be on everyone's mind for a while.
Choosing your tiara according to your face shape
This is a very special tip for choosing your tiara: use it to emphasize the best there is in you! Did you know that choosing the right tiara can help you glow even more? Check it out:
Round face: choose a tiara with a higher peak to lengthen your look.
Long face: tiaras that extend from side to side and with shorter peaks are a good idea for you.
Oval face: Asymmetrical pieces that add volume to the sides are a good choice for you.
Color of the tiara
Gold and silver are the most common colors for quinceañera tiaras, but some girls decide to personalize it with different colors. Girly colors like light pink or light blue are the ones girls look for the most. But remember that accessories should be in harmony with your dress. Have some trials before the party with both dress and tiara on so that you are sure it looks the way you want.
No matter what your style is, if you choose to wear a tiara you will just shine on your party. Find some incredible tiaras on the shopping section of our app.