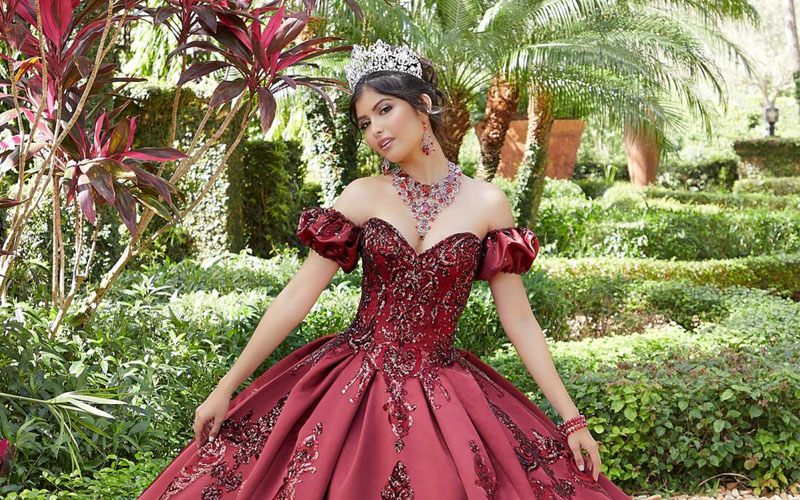 The Fiesta de Quince Años or Quinceanẽra is one of the most important days for a girl. This party celebrates the passage to adulthood, and the dress is a key part of it. But how to choose the best dress to such an important day? Find here 5 easy steps for making the best choice without spending all your savings.

Choosing the best dress
There are some key points to consider when choosing a quinceañera dress. The most important ones are:

1. Color: Choosing the color is as important as choosing the shape of the dress. The color defines a lot in the color of the party's decoration;
2. Style: a perfect style will allow you to feel more confident and beautiful in this day. It should emphasize the best there is in you;
3. Length: the length should be chosen not only by the appearance, but also to suit your needs during the party. The perfect dress makes you both beautiful and comfortable;
4. Budget: there are several price ranges for a quinceañera dress. Knowing how much you are willing to pay is very important before looking for the best outfit. If you do not define it in advance, you might get seduced by the salesperson and blow your budget unnecessarily.

That's why we prepared the following tips for you to save money and time and still look gorgeous in your quinceañera.


STEP 1: Choosing the Color
It might sound strange to say the color of the dress is the first step, but it is a good trick to get your planning of the party started. When you choose the color of the dress, you define the possible colors for your decoration. But beware:
Do not buy any decoration or cake in the color of the dress before you are 100% sure you will find the matching color dress!
A lot of things might happen while you are choosing the dress. So do not buy the cake nor the decoration before you are sure the color you choose will be available. All of them will be available online, but if you choose to buy in your local stores, you might have a hard time finding the right color.
When choosing the color, it is important to think of the one that matches your skin tone. Sometimes girls simply choose their favorite color, but it is also possible to optimize your choice. Colors that make your skin glow will definitely make your dress more memorable.

Very Fair / Fair Skin Tones
This warm skin fits well with neutral colors. So, you can choose colors like navy, beige, or gray for your dress. Bright colors that make your skin look warmer might give you a red-looking skin, so stick with the neutral.
Medium / Olive Skin Tones
Pastel hues are great for medium skin tones. Soft pink, white, light blue or yellow are great for making your skin look glowing. It is also possible to choose stark colors like tangerine.
Dark Skin Tones
White or light purple, peach, orange, yellow and light green are great choices for dark skin tones. They will highlight your beauty and match perfectly your skin tones.
Everyone can wear the color she wants. Choosing a color that makes your skin stand out is a trick for making your outfit even more attractive.
STEP 2: Style of the dress
For some girls, it is very easy to choose the style of the dress: they have always dreamed of this or that style for their party. But if you still want to try some different models, choose it by your body shape.
When you know what body shape you have and what characteristics you want to highlight, you will choose the best dress and save time by looking for the styles that best fit you. Take a look on how to choose your dress according to your body shape:
Hourglass body shape
This a more balanced shape, with the upper and lower part of the body more balanced and a defined silhouette. Choose a dress that highlights your beautiful silhouette: you don't need to hide it! An embellished halter dress and an open back is a great choice for your body shape. Sleeves or mermaid gowns are also a possibility to make you glow with your quinceañera dress.
Apple body shape
If you have a heavier upper body, you have an apple body shape. In this case, elongating your legs and showing your shoulders are a good catch. A flowy off-the-shoulder is a great choice for you. There is also the empire-waist dress, which gives you an elegant highlight to your waistline.
Rectangle body shape
The rectangle body shape is the one where the upper and lower parts of the body are balanced, and the silhouette is not so defined as the hourglass shape. When you have a rectangle shaped body, you'll want to make it look curvy with your dress. Working on necklines and mermaid or trumpet skirts will give you the feminine and attractive curves you want in your dress.
Pear body shape
When you have a heavier lower body in comparison to your upper body, you have a pear body shape. In this case, choose something fitted to your upper body and with a flowing skirt to balance your upper and lower body.
Inverted Triangle Body Shape
If your shoulders are broader than your hips, you have an inverted triangle body shape. For this body shape you can use heavier dress skirts. Avoid putting too much on your upper body and you will find a balanced outfit. You'll want an A-line dress or a trumpet or mermaid gown that balances your outfit.
All body shapes are beautiful. You can make it shine even more following those tips.
STEP 3: Choosing the length
The length has a lot to do with the dress style. But it is also possible to make some changes and make your choice just perfect.
If you want to highlight your legs, you can use a short dress. There are different cuts for it, some asymmetric, shorter or longer. However, it might be a bad idea to wear a dress that is too short or too long if you are going to dance.
Another option is to wear a dress with an interchangeable skirt. In this way, you get all the elegance of a long dress but still can have some comfort while dancing.
STEP 4: Budget
Do not ignore this step. If you want your party to be perfect, it is very important that you know how much you are willing to pay for it. There are several ranges of prices for those dresses. You can have a look online to have an idea of it and talk to your parents to know if what you want fits their budget.
When going to a local store, you can get lost by so many options and end up buying a more expensive one without being the best choice. You can save a lot of money in negotiation at the store when showing other stores' prices. So, take a look in both online and local stores to get an idea of reasonable prices you are willing to pay for the perfect dress.
STEP 5: Try it on!
After knowing the color you want, the kind of dress that best fits your body shape and having searched online more information and prices, it is time to try some dresses. It doesn't mean you can't buy online, but it is good to try some dresses to know how it looks on you.
Take the information you gathered in a notebook or a spreadsheet to help on your decision. Though it is very helpful, you should be open-minded to what you find on your local store. You can find the perfect dress in a first glance or try many others until you find the right one. But the point is:
try the dress or a similar one before buying it.
If after visiting local stores you decide to buy online, you should choose the type of dress that highlighted your qualities and closer to what you want. Also, buy it with the most time possible in advance. You don't want to have a whole party based on a dress, and then it is not good when it arrives. Be ready to do some adjustments on it so that it fits you perfectly.
Following those 5 steps will make it much easier for you to choose the right dress for your quinceanẽra. You will for sure save not only money, but also time. Those are the steps to make your day memorable with the perfect dress!