Classy, fancy, famous. Looking like this in your quinceanera is possible. Some girls dream of being like a TV star in their quinceanera. If that's your case, having a Hollywood themed party is a great idea. It gives you many options of dresses, decoration and details like the invitation and the food.


1. Dress
The dress is the soul of your party. It will give you the feeling and inspiration you need at your party. There are different ways of choosing a dress to your Hollywood themed party. One of the options is to inspire yourself in the red carpet dresses. They are beautiful, glamorous dresses and you can inspire yourself by the actress you love. Another way of choosing your dress is inspiring yourself by a movie character. Many girls inspire themselves by personalities like Marilyn Monroe or Audrey Hepburn. You can also get inspired by a decade or type of movie, like the 1920's movies, for example. A lot of different fancy dresses are possible to a party inspired by Hollywood.
Jewelry and accessories are also very important. A fancy pair of shoes will complete your perfect Hollywood outfit.
2. Damas and Chambelanes
Your court of honor will help you get the perfect scene. They should be inspired by the same theme of your own dress: a decade or style, a character or a movie. They will be important actors in your party too! Find them fancy looking clothes. White or cream suits for your chambelanes, for example, are a great choice for your chambelanes. Your damas can be all in fancy black dresses to shine with you in your important day.
3. Décor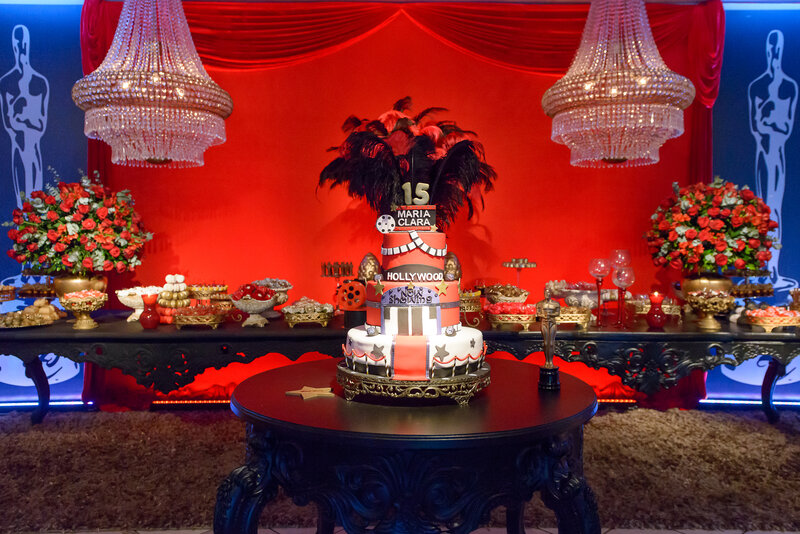 4. Other Ideas
There are plenty of ideas you can add to your party. If you need entertainment for your guests, for example, you can have a small movie being played in a small scene. You can also have popcorn and other movie theater treats being served in your party. There is another great idea: you can rehearse a movie choreography, like Dirty Dancing movie choreography, for example. The options are infinite when you choose your inspiration!
Action! Feel like a movie star in your party. Get inspired by Hollywood to make an unforgettable fiesta. Find incredible dresses and outfits in the shopping section of our app to have an incredible Hollywood themed party.