Who doesn't want glamour, elegance and a pinch of mystery in their quinceanera? Many girls inspire themselves by Great Gatsby to have an incredibly glamorous party. It is a luxurious theme inspired not only in the movie, but in the 1920's glamour. Feathers, lights and glamour are characteristics of this party. Check out how you can organize your party to be Great Gatsby themed here.


1. Dress
A fancy dress will be the center of attention in this party. Pearls, glitzy appliques, and soft colors will give you an unforgettable look. You can even wear a black dress if your party is at night and you want an even more impressive look.
Make-up is inspired by the 1920's too. Red lipstick, for example, can be a great choice. Inspiring yourself in the 1920's make-up will usually give you a dramatic look, but you can add your touch to the outfit with a softer make-up and style.
2. Damas and Chambelanes
Your damas and chambelanes can have a great role in your quinceanera. When throwing a Great Gatsby themed party, your damas can have a nice flapper dress that will get them the 1920's look you want. The chambelanes can be inspired by Jay Gatsby with his elegance and mystery. If you want to make the scene even more intense, you can ask your guests to wear 1920's-like clothes.
3. Décor
Black, golden and white are the center colors of this party. The fancy decoration should include glitzy strass details or some pearls and feathers in order to have so much glamour as Great Gatsby parties. Great beautiful glasses (usually of wine with textures) is a must. Having a lot of lights will make your party even more interesting. You can choose some extra details, like a golden and black folding screen to a side. Choosing fancy chairs, white plates with golden details and shiny napkin rings is a great idea for this theme.
4. Cake
A dramatically beautiful cake is an important part of this party theme. You can use the same colors and add details, lights or even sparkling candles to make it impressive. Champagne decoration around the cake or even in the cake itself (even when it doesn't have alcohol) is a great idea to this party theme.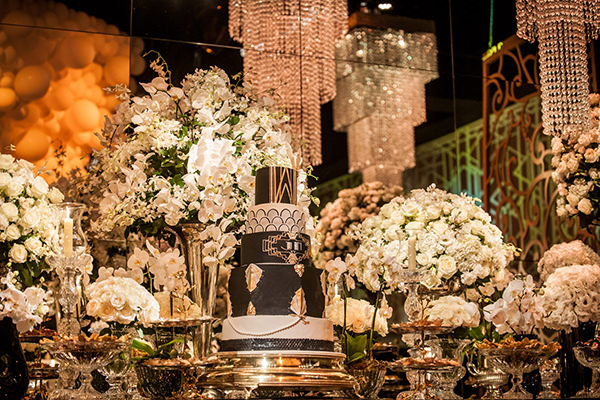 5. Invitations
A Great Gatsby themed party is very impressive for the guests. It is a glamorous theme, and you can start it by sending fancy invitations. You can inspire yourself in the movie's lettering and use black and gold colors. Some pearl details or strass will add the charm you want to make your guests even more interested to find out what the party will be like.
You can have an enchanting, glamorous party by choosing the Great Gatsby theme. Make your party unforgettable by choosing the right items. Find the best sellers online in the shopping section of our app.