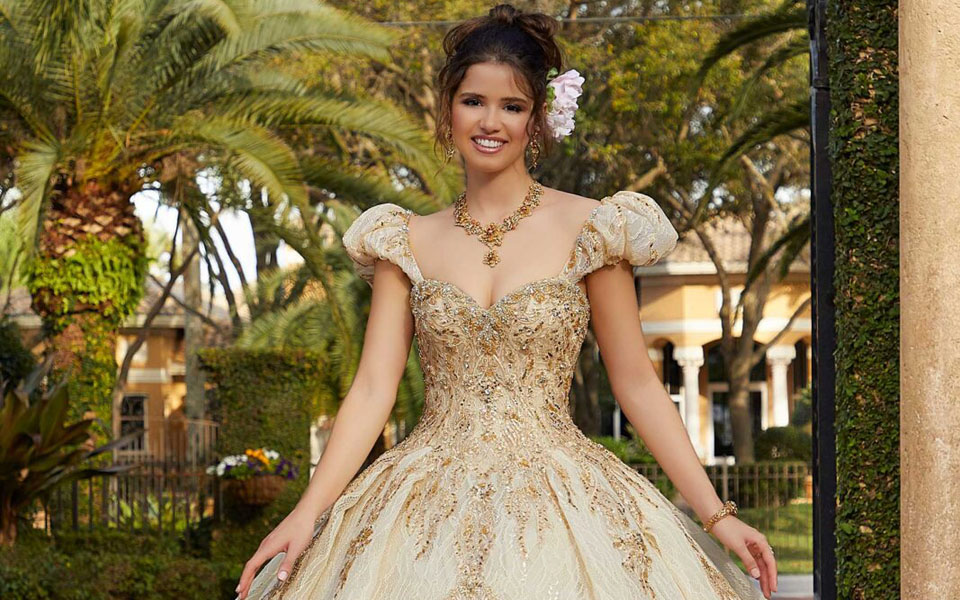 Golden dresses can give you a royal look. As charming as yellow dresses, golden is a color that matches parties during the day or night. Here we have some golden dresses that will blow your mind.
1. The princess
A dress loaded with appliques and details has just a princess look. The skirt is bent in some points, giving a charming volume and making the effects of the appliques on the edge even more beautiful. A dress with a cleavage like this is comfortable because it neither goes too low making you have to take care of your movements nor is it strapless, giving the skirt support. It is a perfect dress for a party in a fancy venue at night. The golden tone allows you to invest in a colorful decoration if you want.
2. The queen
A dress with puffed sleeves like this has a medieval queen air. The pattern on the skirt gives the dress a traditional look. A dress like this is a good choice for outdoor parties or for fiestas during the winter. Heavier fabrics will give the skirt a nice look, make it warmer and highlight the shiny appliques. Also, its cleavage gives you a mature look and it is perfect for a necklace with a beautiful stone. A dress in this tone allows you to wear a nude makeup or to put more colors on it. Hint: a dress in this color is perfect for a necklace with an emerald stone and a mac russian red lipstick.
3. The modern girl
A golden dress like this one is perfect for parties on sunny days. It is light and joyful, besides giving you a youthful air. The layer on the skirt gives you a charming detail, besides looking great during the dance. This layer also makes the skirt volume look more natural. It is a perfect dress for the summer, but it can also be worn during the fall with beautiful fingerless gloves. Decorations in green or parties in the garden will make you look even more sweet in a ball gown of those. If your upper body is voluminous, this kind of cleavage with appliques or laces on the top are a great choice.
Wearing a golden dress will make you look as part of a royal court. No matter if you want to look like a queen, a princess or a modern girl from royalty, you can find amazing golden dresses in the shopping section of our app.