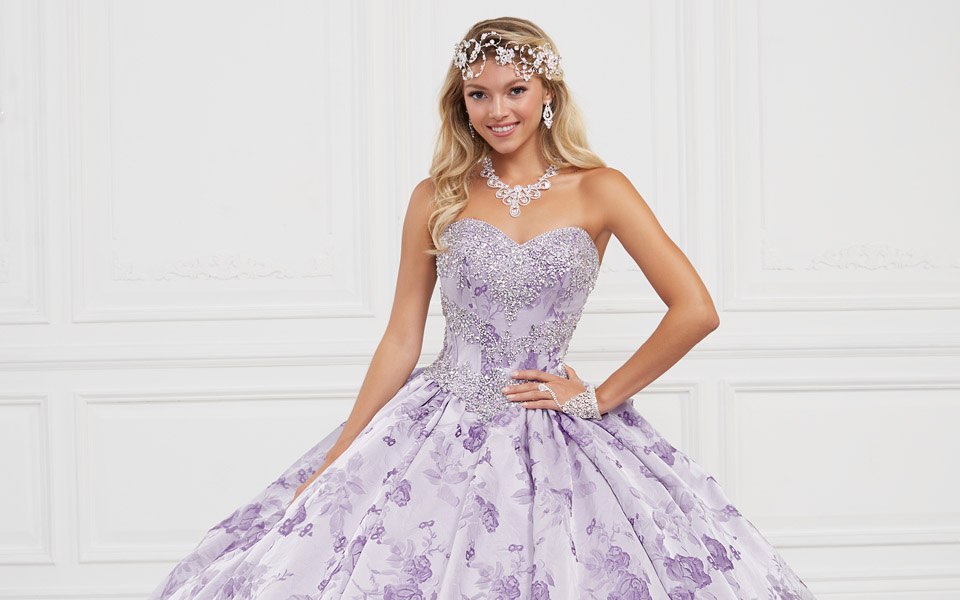 Prints on your quinceañera dresses will give you a special look and make your dress even more memorable. Flowered prints are sweet and add charm to your dress. There are different ways of using those prints to make you look just perfect. Check these models out.


1. Contrasting pattern
A dress like this is perfect for parties during the spring. The pattern contrasting the silky shiny skirt makes your dress stand out. A cleavage like this is very classic, giving you a traditional, Cinderella look. It suits well any skin tone and gives the quinceanera a lot of decoration options, especially for the colors. The pink pattern contrasts it a bit, making it personalized and even more sweet. With prints in colder colors, you can wear a dress like this during the winter, adding gloves and other accessories as you wish. A beautiful big necklace is perfect to accompany a model like this.
2. Matching colors
A dress like this is another option for parties during the spring. The sweet traditional model is perfect for a traditional party. The flower print in darker pink gives the dress a nice effect and adds texture to the fabric. You can have a dress like this in any color you want, and the matching prints will give you a nice movement in the dress, making it exclusive and authentique. A bun is the perfect hairstyle for this dress, but many other hairstyles will also look pretty. It can be even more beautiful with gloves or a nice bracelet.
3. Gradient sizes of flowers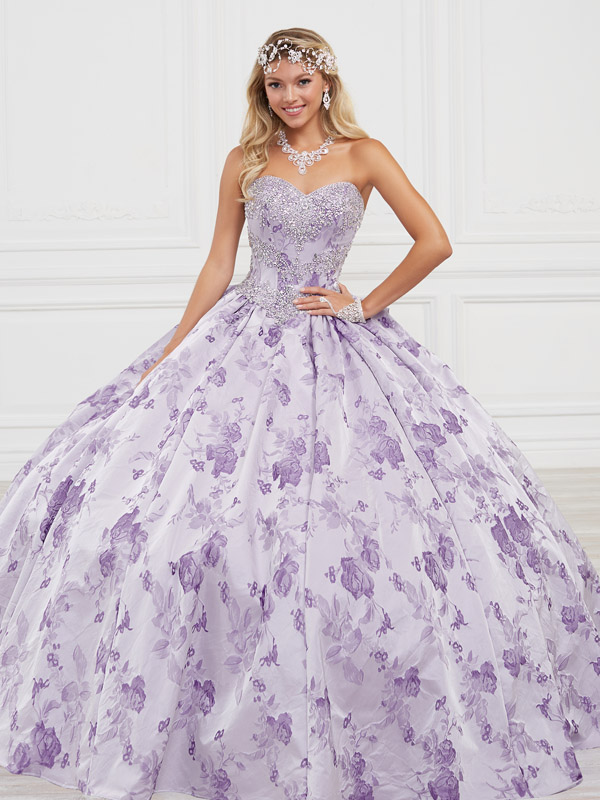 A dress like this is perfect for a modern party. The gradient sizes of the flower adds volume to the visual of the dress and makes the skirt look with more texture and movement. It is a great idea for parties during the warm seasons and it suits well most skin tones. The classic upper part of the dress contrasts the modern skirt and gives the girl many jewelry and hairstyle options. Its silver appliques give even more charm and glamour to this dress that has a luau party energy.
Printed dresses are perfect for adding charm and making your dress look exclusive. Flowers are traditional prints that can make your dress personalized and give your look more glamour. Find many printed options of dresses for your quinceanera in the shopping section of our app.