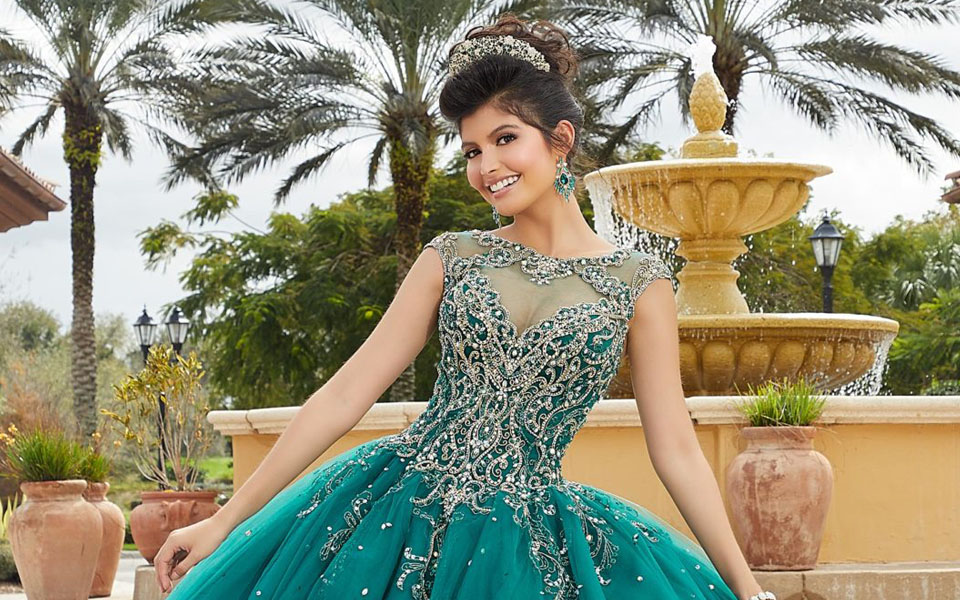 Adding colors to your dress or choosing a dress with contrasting appliques is a great way of highlighting your dress. Find here some inspiration for the perfect multicolored dress.


1. Traditional party
If you are having a traditional party, a dress like this is just perfect for you. This dress has a lot to do with traditional mexican models. First of all, red is a very common color for many other celebrations. In your quinceanera, wearing red with contrasting appliques will make you look very traditional, besides highlighting your own beauty. A skirt like this can be made from many different fabric types. Take care in order not to put appliques in fabrics that might get torn with a heavier applique. A dress like this is perfect for parties during the summer, and silver is a great color for contrasting red. You can also have multicolored appliques in colors such as green and yellow.
2. Authentic look
A bright tone of blue will definitely give you an authentic look. A dress like this is perfect for the winter. The sleeves ad heavy skirt will keep you warm, while the color and contrasting appliques will make you the center of the party. The loose sleeves give you extra charm and allow you to think of special movements during the dancing for showing your sleeves model. Silver appliques make great contrast with blue and make it look even brighter. You can have similar effects with other colors like white or gold depending on the tone.
3. Shining stones
A dress like this is another great option for parties during the cold weather. The color is perfect for the night or for cloudy days and the shining appliques that look like stones on the skirt make the dress magical. The effects of appliques like this wll make you feel like a fancy Barbie and the top of the dress with contrasting silver appliques make the dress even more elegant. You can wear matching jewelry with a dress like this. Make sure to have some lights in your venue that will make your appliques shine even more. You will get amazing photos and look perfect during the dance with the effects of those appliques.
You can either choose multicolored or contrasting appliques to your dress. It will enhance the effects of the color and make your dress even more attractive. Check out some nice dresses like those in the shopping section of our app.