When choosing your quinceañera court, you probably chose the people who are closer to you and that are meaningful in your life. Your damas are committed to your event, and will help you in the planning and in the execution of your party's most important moments. They are probably your closest friends, and they will need very special dresses. Find here tips for making the best choice of dresses for your damas.


1. Give them options
It is important to remember that your choices might not be exactly what your dama wants to wear. When choosing your damas dresses, get them options so that they find something they feel comfortable and beautiful wearing. Have you ever been somewhere with a cloth or a uniform you find yourself uncomfortable with? This makes the whole event bad for you. You don't want your damas to feel that way: they are special for you! If you are the one paying for the dress, you can give them options. You will find many beautiful dresses in the shopping section of our app. Maybe you will want to share the dresses you thought for your damas so that they choose the one that is perfect for her.
2. Pay attention on the trendy fabric and colors
When choosing the perfect dress for your damas, look for the trendy fabric and colors available. You can find the best ones on the Internet, among famous people social network or specialized websites. This will allow you not only to have a fancy court of honor, but also to save money because the trendy ones will be easier to find and to compare prices and quality.
You have to decide if your court will be wearing a single color or if they will be able to choose other colors too. When choosing a single color for everyone, you should think of:
How the damas' dress color matches their skin. Consider colors that match the most skin colors possible so that your damas will feel pretty. Talk to them about colors that they don't like wearing at all, that way you will avoid bad circumstances.
How the damas' dress color matches your party and your dress colors. Your court of honor has a very special role in your party. Consider how their dress color will match the scenery and complement your own dress color. Everyone is part of a whole and should be in harmony.
If the chosen fabric is adequate for the weather/season. Maybe you've found dresses with very good fabric for sale and you're feeling lucky. But try to think: is this fabric adequate for the weather by your quince? Remember that out of season dresses are cheaper, but you don't want your damas to be sweating from such a hot fabric or shaking from a thin fabric in the winter.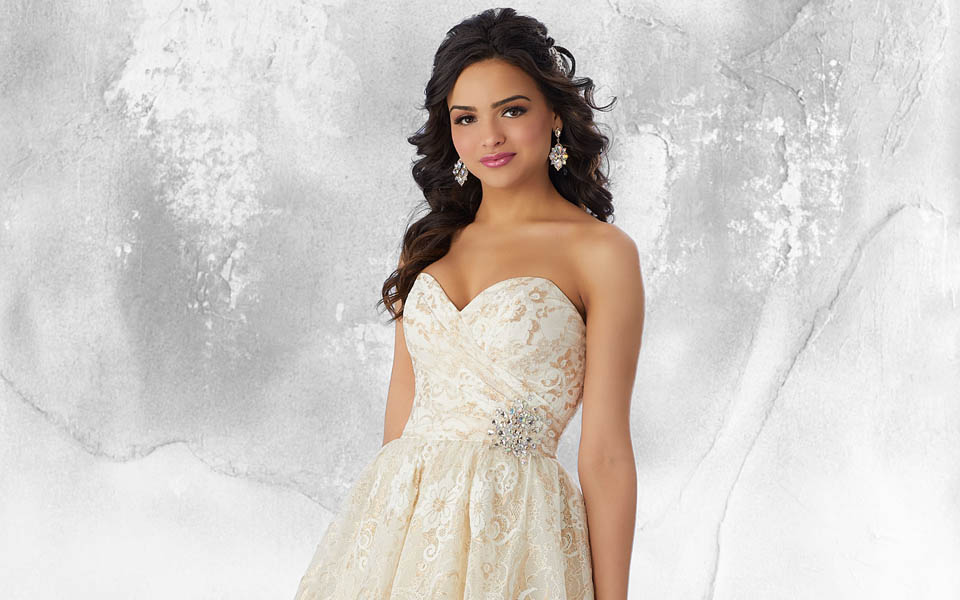 3. Think of different body types
Don't choose the dress thinking of the piece of cloth itself or of the style you like. Think of your dama as she is, if she is thinner or curvier, if she usually wears longer or shorter dresses and skirts. The same way you considered your body type when choosing your dress, you should consider your damas body types to make them look the best way possible.
4. Think of the accessories they will use
Using adequate accessories will make all the difference. The accessories will emphasize not only the dress, but the dama's beauty. The right accessory is matching the dress and putting some charm without giving the girl a heavy look. For example, if the dama's dress has a lot of details on the upper body, try to give her a bracelet. Or if its skirt is heavier, give her a necklace or earrings that will harmonize her look.
5. When you are not paying for their dresses
Not all quinceañeras are able to pay for their damas' dresses. If this is your case, it is not a problem at all. Check with your parents if you can give them accessories as a gift and make sure you tell them about the expenses during the invitation. After accepting being your damas, they should be 100% aware of all expenses involved in your event so that they tell their parents and all of you don't have bad surprises before the party.
You can still help them by showing the dresses of the app and by helping them with the dresses more adequate for their body types and budget. Share with them the process you made to choose your own dress so that they know how to spend less and how to find the perfect dress for your quinceañera.
Every girl should feel comfortable and beautiful in this important day. You court of honor is meaningful for you and has worked hard to help you to make this day unforgettable. Reward them by showing how important they are and by making them feel as pretty as you will be feeling.