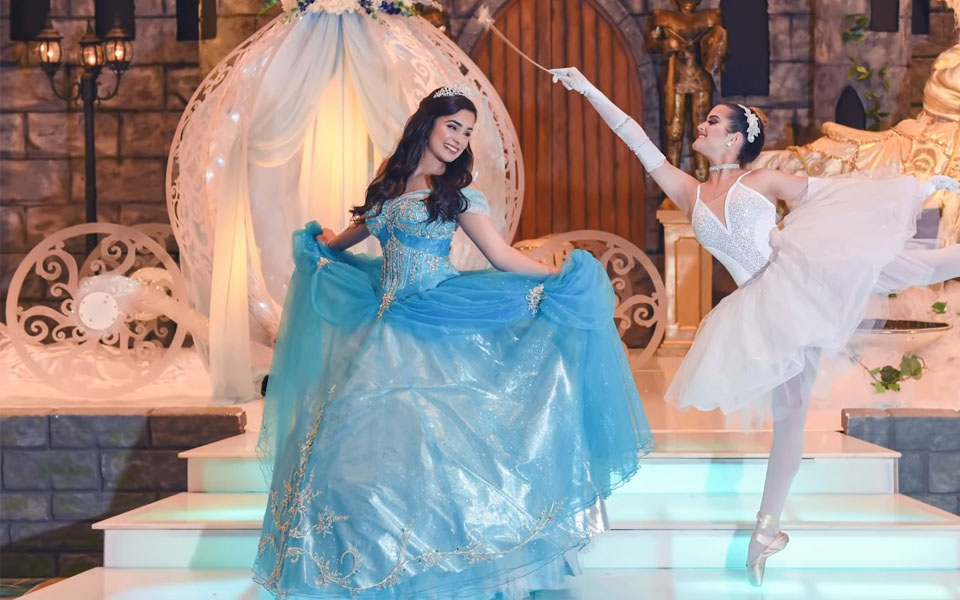 "Have faith in your dreams, and someday your rainbow will come smiling through".

Having a Cinderella day is the dream of many quinceaneras. It is a magical experience when the girl has a princess day. Everything should be picked carefully to give the party the perfect, magical look. Check out some tips for your perfect Cinderella Night.


1. Dress
If you want to inspire yourself by Cinderella, you won't have a hard time choosing your dress. Light blue is the right color to this outfit. Glitter and shiny sports are a great idea. A magical, shiny ball gown with a voluminous skirt, beautiful gloves and a fancy shiny pair of shoes is the perfect look for your fiesta. You can either choose a perfect copy of Cinderella's dress or simply be inspired by this sweet, magical outfit. Transparencies and glitter are important to this dress.
The girl's makeup can be more discreet like CInderella's one, but if the girl chooses to give her own touch to the outfit by putting a heavier makeup on, it is ok too.
2. Damas and Chambelanes
Your damas and chambelanes will give a special air to your party. They should have outfits that are as magical as yours. You can have the chambelane dancing with you in a royal looking suit, like if he was the prince. The court of honour can wear lighter colors so that you keep the scene in your party. Shades of blue and cream are great choices.
3. Décor
There are plenty of options for this kind of party decoration. Light blue and white are the most common colors for this party theme. Light colors and shades of blue and golden are great ideas for your fiesta. You can have pumpkin shaped décor items, centerpieces and details in crystal and shiny materials that will make your perfect scenary. Led lights are a great idea for adding some magical shiny spots in your decoration. Crystal slippers are also a good idea for Cinderella inspired parties.
Having clock decoration items is a good choice too (if they can ring at midnight, it is even more remarkable).
4. Extra ideas
There are so many details that you can add to your party that it is even hard to enumerate them. The invitations, for example, should have a magical royal look. They give your guests expectations for your big day and they also make them curious to come. Another idea for a Cinderella themed party is for you to arrive at the venue in a horse carriage.